---
Egmont rounds off Thomas' 75th year with limited edition collector's issue
December 2020- The 3rd special anniversary issue goes on sale on 9th December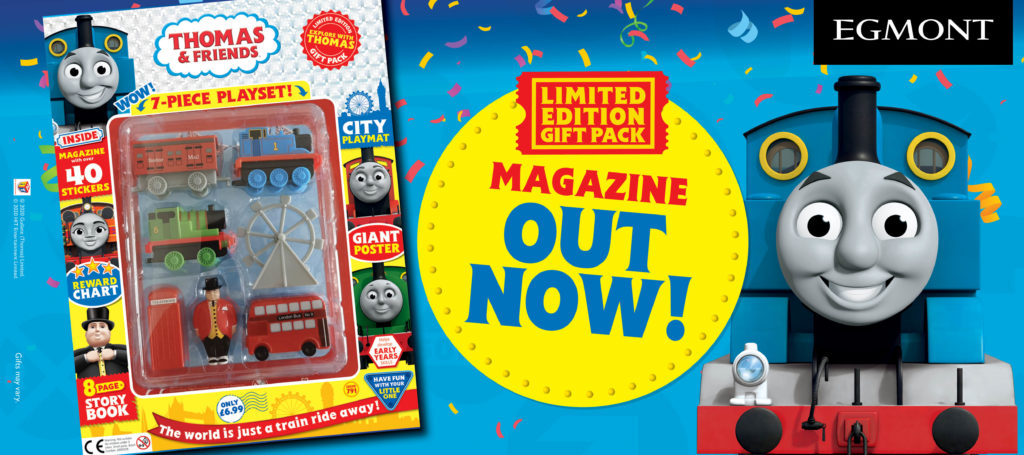 Story House Egmont is celebrating the 75th anniversary of the world-famous Thomas & Friends brand with the release of a limited edition gift pack of the ever-popular magazine.
In issue #791 of Thomas & Friends, everyone's favourite engine takes a special trip to the capital! Thomas fans will love the amazing seven-piece playset that accompanies the magazine, which includes Thomas, Percy and a carriage. Readers can explore London alongside Thomas with the London Eye, bus, phone box and Fat Controller figurines also included in the playset.  There's heaps of fun for little ones inside the magazine too, with over 40 stickers, a reward chart, posters, puzzles and plenty more to help develop early years skills.
Story House Egmont has released three special editions of Thomas & Friends magazine this year. Thomas fans delighted in receiving an official mini train and story book in issue #781, and this year's summer special was a treat for young Thomas fans and collectors alike, with a special anniversary train set accompanying the magazine.
An incredible 32 years after launch, Thomas & Friends magazine remains a top 20 title in the children's market and is the oldest single character magazine in the UK. This phenomenal performance is testament to the strength of the Thomas & Friends brand, as well as the successful publishing partnership between Story House Egmont and Mattel.
Kiran Vara, Publisher of Thomas & Friends magazine said, 'We've loved celebrating with Thomas and Mattel through all three anniversary issues of this evergreen magazine but Thomas' trip to London is really something special! We know that Thomas fans will love exploring the city with Thomas and enjoy all the exciting activities inside the magazine'.
Issue #791 of Thomas & Friends magazine goes on sale on 9th December, priced at £6.99.